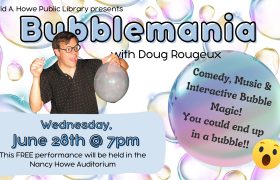 Bubblemania is coming to the Nancy Howe Auditorium stage!
Join Doug Rougeux as he astounds and amuses with his amazing bubble creations. This interactive show features music, fun, and soap bubbles that can sometimes fit an entire human inside!!!
Doug is a graduate of The University of Buffalo and The Ringling's Bros. Clown College, and he spent 2 years clowning with The Greatest Show On Earth. His talents have taken him to Singapore, Indonesia, Malaysia, Canada, and 41 of the 50 States. He has performed with touring theatres, circuses, symphony orchestras, an opera company and has made bubbles on the roof of the Arc D'Triumph in Paris.
This program is free and open to everyone.