Digital Programs
Right now, programming is different than we've ever done. Here are some things happening in the Children's department.
Curbside Crafts – 
Check in the auditorium foyer often for new and exciting Crafts To Go!
Right now, we have a fun Turkey Craft for Thanksgiving, and a DIY Dinosaur Fossil craft! Stop by and pick one up from 12-2 or 4-6 on weekdays, or 12-2 on Saturdays. 
Baby Play Date – 
While this is usually a time for our youngest patrons to get together and socialize, we can't do that right now. So, Miss Kate is recording videos where children can still listen to a short story, learn a fun song, and enjoy some bubbles!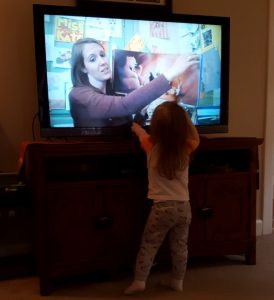 Digital Storytime – 
This program is a little longer than our Baby Play Date. If your child can sit for 12-15 minutes, this is the program for them. We like to start with a rhyme, read a couple of books, and end with a song. This is similar to our in-house program with it's structure. 
To find some previous storytime videos, you can check out our Youtube page for our Storytime Videos.